One of my favorite things to do is attend the Armory Show in the spring. It is a huge show to walk in one day, so I try to focus on work which incorporates fiber.
I conversed with several gallerists and asked them these questions;
There is exponentially more fiber being represented in this show, it seems to be growing each year, can you comment on that?
People in the fiber art world are often asking, Why is fiber art struggling to be in fine art venues? Why is it often considered craft?
Some crochet, knit, and quilt artists wonder why their work isn't in fine art galleries when they are capable of making similar work they see there.
The gallerists were more than happy to engage in conversation as these events can be mind, and rear end numbing, but they did not answer any of these questions directly. In fact they were unaware that there was more fiber being used. Instead each one of the gallerists told me about the trajectory of the artist's' work, placing it in context of their practice, their philosophy, their queries, their problem solving, their history, their life story or their struggles in family or country, political or economic.
What mattered to these galleries was the thought and motivation. To get a clear idea of what I mean click on the link below under the work by Chun Kwang Young and listen to his videos.
The artists we spoke about had much to say behind the work. The color choices, shapes, overlays, placement, medium were all significant symbols in their visual language to transmit a story. Some of these stories were easier to read than others. Some were obtuse. Some works stood on their own and some needed an explanation.
Some works were so disinteresting to me that I didn't care to ask about them. (weaving on a refrigerator shelf) The show is huge, and there is more than enough work to see.
Here are 44 works. Enjoy.
78 inches of woven beads!!! Stunning
I love how her dress looks like the art!
Notice the braided, coiled wire.
The lights made this impossible for me to capture. It was so gorgeous, full of color, life, depth, and intrigue. Incredibly richly layered with intricate images. Actually a print of the original paper
collage.
More on Kaphar's sensitive work
here
.
Little bells stitched to canvas, seemingly flowing down the corner into a large puddle at my feet.
Crocheted lily pads in clear or black acrylic boxes represent the plants which were collected by Victorian visitors from two rivers in the Amazon, and recall the destruction of nature and invasion of native cultures by colonizers.
Mali Artist Abdoulaye Konate
More about Konate
here
.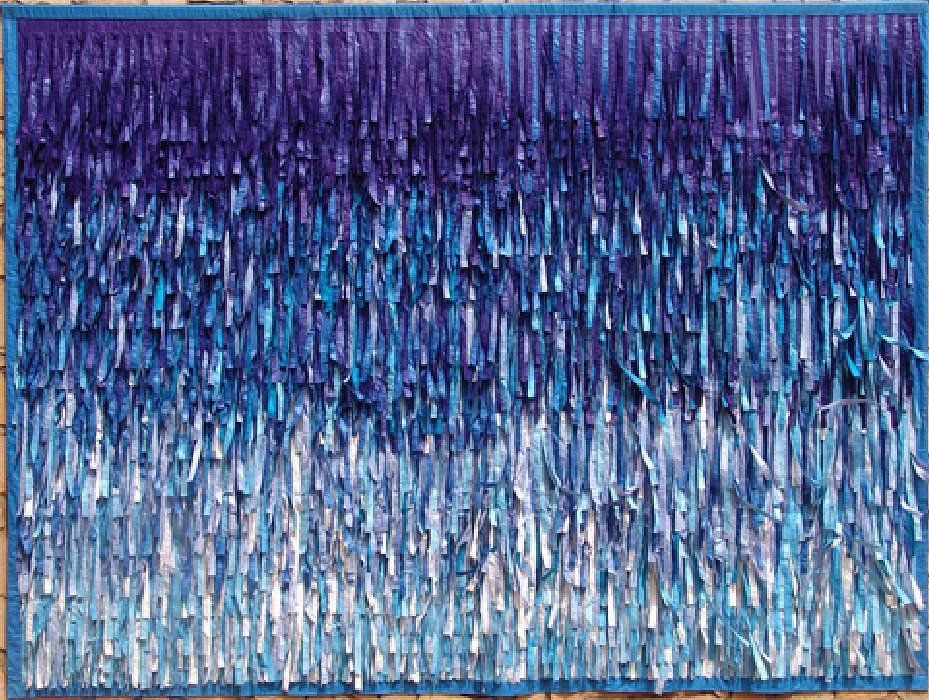 One of the best examples of wearable fiber at the Armory, atop Bodlar Deathbringer's head, who despite his off putting name is a very sweet guy.
These are machine woven representations of sound recordings made in factories producing textiles in the dying textile trade. Brilliant. These sold for 30,000. See more about sales here,
https://news.artnet.com/market/armory-show-2016-final-sales-442349
Josh Blackwell, embroidery on plastic bags and cloth
Thinking about the idea of consumer responsibility led me to begin collecting plastic bags from kitchen cupboards and city streets six years ago. What began as an exercise in environmental conservation evolved into a studio practice combining aspects of painting, sculpture, and installation.
Plastic bags are the second most common form of litter in the world after cigarette butts. Their degraded status and ubiquitous presence are fascinating to me, attempting to balance between convenience and excess. Quickly used and then discarded, their textured surfaces wear the remains of physical activity like dirty laundry left on the floor. The bags attempt to redress their impoverished status with the addition of colorful embroidery in geometric patterns.
I wish I had asked about the story behind these two pieces, just to see if there was one. Sorry, not in love.
Sometimes I wonder why an artist chooses to use tapestry as a medium. The digital image goes from computer to weaving machine sometimes without artist intervention. I think the artist thinks it's unique or cool but doesn't consider if the fabric enhances the idea or image. In this case the ethereal, floating shadow seemed to contrast so well with the soft texture of the tapestry taking the eye back into space; at the same time, the embroidery flattened the image. The embroidery gave a purpose for the fiber substrate and the union was intriguing.
This Egyptian artist references the tentmakers art from home in her applique work about connections.
Really? Heat transfers in 1971? Yes I am sure they were available to the fashion industry, but the use of them in '71 shocked me.
This next work really astounded me. Made in a technique inspired by Ikat weaving, The yarns were digitally printed before hand weaving. The artist, is Margo Wolowiec at Anat Ebgi gallery in Los Angeles. Sensitive and thoughtful work.
Weaving on a frig shelf.
Fur, sweatpants and socks are fiber right?
Ok, it references fiber.
....and yarn, they left out the yarn.
Large tapestry work that looks like newspaper but up close it's just gray areas and unreadable. The black brush strokes seem to be the embroidered part.
Pae White represented her former works in this collaged image that was woven as a tapestry in Brussels. She was intrigued by the way every small color change of the yarn is carried along the back to be picked up in the weaving. The gallerist was kind enough to show the back. The yarns were varied, textured and the piece was thick. Very beautiful. Not your typical tapestry! Old world quality.
Image of a man with crossed arms, printed on velvet and burned away, called devore or simply burnout. The fabric was stretched on a frame so the sheer parts revealed the wall behind. Velvety, rich, deep color and texture.
A complex work which seems to document daily walks in Manhattan. On the right is the map of Central Park. On the left is the journal entries with date and place. This work sold! yea!
Carved books. Stunning
Big sponge! with an inkjet print. What a great texture!
Whether turning text messages into haiku-like riddles, using wads of chewing gum on canvas to reference German cities bombed during World War II, or creating precisely machined graphite sculptures of banal objects such as a water cooler or an air conditioner, McEwen's work specializes in manipulating the over-familiar in order to create a moment of linguistic destabilization.
A stunning work by Chung Kwang Young, that keeps surprising the viewer from every angle and every distance.
http://chunkwangyoung.com/html/06_Video.php
Click on the link to hear him speak about the connection his work has to his country and culture.
Shiota does it again. She had about 6 pieces in the show in various galleries. Here is an absolutely mind boggling fast motion video of one of her installations in progress.
https://vimeo.com/31722583
And that covers the fiber selections. I think I only missed one or two. One was several ribbons hanging on a nail. I think you will forgive me. I hope you enjoyed the tour.
And not fiber related but here are some of my favorites-
This metal bar actually leaned in an indentation in the mirror, as though it were liquid. Stunning.
My favorite colors, a reference to tapestry or old European paintings, do you see the people? and graffiti, all my favorite things together!
Foer more information this is a worthwhile article about Armory show, the art world and the world economy,
https://www.artsy.net/article/artsy-editorial-what-sold-at-the-armory-show-03-06-16